Experts in Social Security
Registered Social Security Analysts have studied the complex laws and rules of Social Security – and have passed the national RSSA Competency Exam administered by the National Association of Registered Social Security Analysts.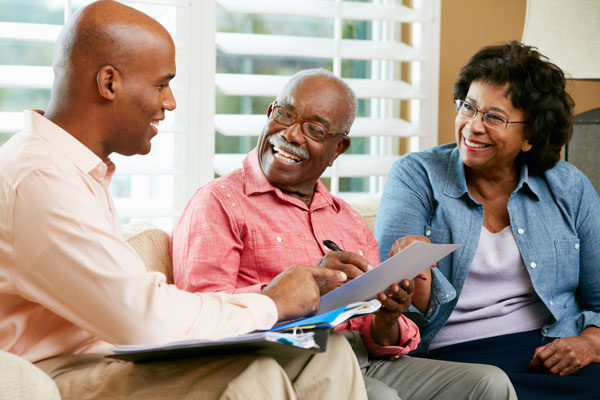 Become a Trusted Advisor
RSSAs like you can help their clients receive tens of thousands of dollars or more in additional Social Security benefits. Once you become a RSSA, you will be well-equipped to guide people through the complex considerations in their claiming strategies, providing advice and comfort. RSSAs help individuals and couples understand how to make decisions about when to retire, how to claim spousal benefits, and how to navigate Social Security regulations to maximize their benefits.
How RSSAs Work With Clients
1. Meet with Clients
Discuss clients' needs based on the intake form they fill out about their financial goals.
2. Create Report
Use our calculator tool to run various Social Security claiming strategies.
3. Decide On Strategy
Help your clients decide on which strategy best maximizes their Social Security benefits.
Who Becomes a
Registered Social Security Analyst?
Individuals like you, interested in a new career or starting their own business, can apply to take the RSSA Social Security Training Curriculum. You can earn your RSSA credential and take advantage of the RSSA Practice-Building Toolkit to launch your own business or potentially get an opportunity to work for an existing company. Many Baby Boomers appreciate the chance to launch an "Encore Career" as a RSSA – and help their fellow Baby Boomers with invaluable advice.
Using Your RSSA Credential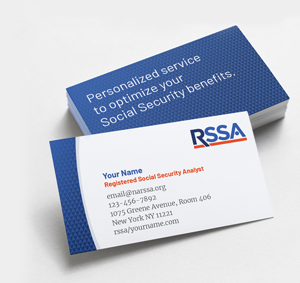 Once you have passed the RSSA exam, you can use your RSSA credential after your name, like a CPA. Your RSSA designation entitles you to join the National Association of Registered Social Security Analysts (NARSSA), the exclusive organization for RSSAs. NARSSA will provide you with marketing materials featuring your RSSA designation.
See What You'll Get